The Landscape Character Assessment Guidance for England and Scotland, 2002 describes Landscape Character Assessments as:
"a tool to help understand what the landscape is like today, how it has come to be like that, and how it may change in the future. Its role is to help ensure that change and development does not undermine whatever is characteristic or valued about any particular landscape"
Devon-wide Landscape Character Assessments
The Devon-wide Landscape Character Assessment describes Devon's landscapes by defining a series of Landscape Character Types (LCTs) and Devon Character Areas (DCAs) which cover the entire County, with the exception of Exmoor National Park. (For more information on Exmoor's Landscape Character Assessment and tree planting opportunities, please contact Exmoor National Park Authority).
Devon County Council's Planning website has more information on the Devon-wide Landscape Character Assessment – see Advice Note 1 from the Devon Landscape Policy Group.
Landscape Character Types (LCTs) are generic types of landscape which can occur in different places. They have similar characteristics wherever they occur, and are called by descriptive names (e.g. Estuaries, Moorland Edge Slopes, Settled Valleys). 35 different LCTs have been identified across Devon. Together they make up the 'Devon Menu' of LCTs. Their descriptions highlight LCTs' key characteristics, including trees and hedges.
Devon Character Areas (DCAs) are geographically unique areas, each with a distinctive 'sense of place'. They are often formed of groups of LCTs and are called by descriptive place-based names (e.g. Taw-Torridge Estuary, East Dartmoor Moorland Fringes, Axe Valley). Their descriptions emphasise local identity and visual and perceptual influences.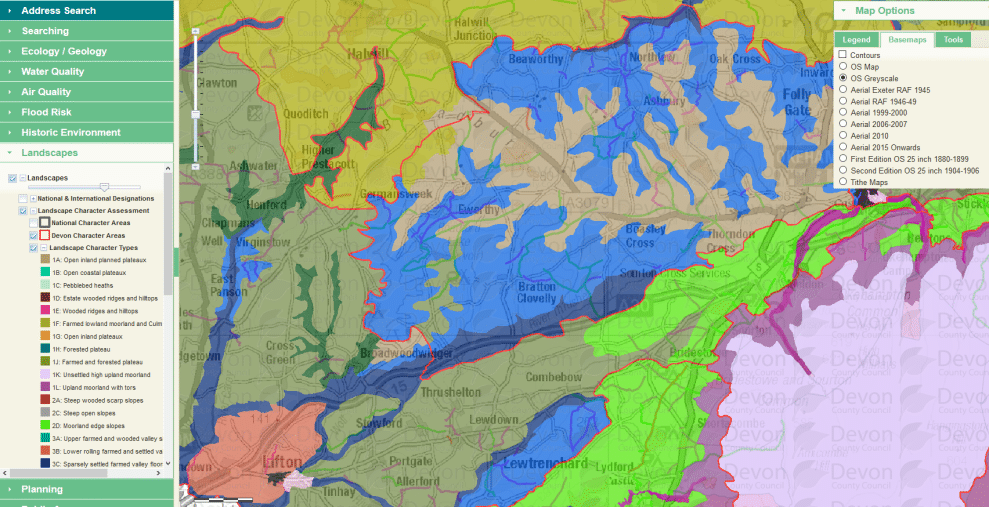 The Landscape layers on the Devon County Council Environment Viewer allow you to identify the LCTs and DCAs relevant to your site, and link to descriptive profiles of them. The DCA profiles are accessed from the Environment Viewer and the LCT profiles are contained within District or National Park Landscape Character Assessments which you can link to.
The DCA and LCT profiles contain a wealth of information relevant to tree and woodland planting/ regeneration:
How to use Landscape Character Assessments to guide tree planting and regeneration
| Section of DCA or LCT profile | How to use it to guide tree planting and regeneration |
| --- | --- |
| Introductory description and photographs | These give an indication of current tree cover, and if trees and woodlands currently play a headline role in determining landscape character. If trees and woodlands are already prevalent, then generally it will be relatively straightforward to accommodate more without detriment to landscape character. |
| Key characteristics | These summarise relevant key characteristics of the landscape, including field patterns, hedges, tree and woodland cover, and other semi-natural habitats present. Some also describe key landscape attributes such as scale, pattern etc. which will be applicable to the UKFS landscape principles described below. |
| Special qualities and valued attributes | These are the attributes of the landscape that should be protected or enhanced.  They often relate to how people experience the landscape, as well as other environmental factors. Tree planting/ regeneration should not take place where it will be detrimental to special qualities. Examples of special qualities are distinctive skylines, long views, wooded backdrops, archaeological earthworks, open grassland habitats or a sense of tranquillity. |
| Forces for change | This section identifies past, present, and future changes in the landscape. Some are likely to be relevant to tree and woodland planting, such as the loss of trees through disease, or the past planting of conifers on ancient woodland sites. |
| Vision/ strategy | This section sets out the overall aims for the landscape in the future. Many of the strategies have direct relevance to tree/ woodland planting, with reference (for example) to enhanced and linked networks of hedges and woodlands |
| Recommendations/ guidelines | These are practical actions to put the vision/ strategy into practice. They are set out under three section headings of 'protect', 'manage' and 'plan'. The sketch above, showing a typical Devon scene in 25 years' time, provides examples of tree-related actions from Landscape Character Assessment profiles. |