During Naturally Healthy month we encouraged you to get outside and connect with the natural environment. But there is no time like the present so you can still get outside and feel better for it.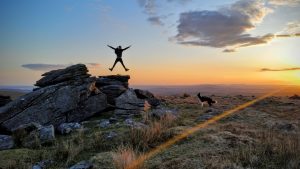 You can search for Naturally Healthy activities on the Active Devon Activity Finder. This website provides a range of sports and activities across Devon and includes some tasters run specifically for Naturally Healthy October. Find Naturally Healthy activities such as Nordic walking, events at Haldon Forest and the Crediton Allotment Day, using the key word search 'Naturally Healthy' and scroll down the search engine to select the Naturally Healthy campaign.
There are some great ideas for self-guided walks, cycle or horse rides you can do by yourself or with your family on the Explore Devon website, which showcases some of Devon's beautiful trails, landscapes and wildlife areas.
Take a virtual walk in the Clyst Valley with the Routes for Roots project. Find out more about the area on the Clyst Valley Regional Park website.
How about some stargazing? Find out more about our amazing night skies and our nocturnal wildlife with Devon Dark Skies week which ran from 23 to 30 October. Exmoor National Park also has lots of activities as part of its Exmoor Dark Skies Festival running from 16 to 31 October 2020.
During lockdown, a lot of us found an escape to nature was beneficial for our physical and mental health.  Mindfulness is an age-old practice of focusing on the moment, and mindfulness in nature can be very beneficial. The Woodland Trust and the National Trust, in partnership with Aquafolium, have developed a self-led mindfulness trail for Fingle Woods and a series of 8 videos guiding you through activities you can do on your next visit or whilst exploring your local greenspace. For a taster of why Forest Bathing and mindfulness watch these short videos and be transported to Fingle Woods.
Help Save Devon's Treescapes, Devon Wildlife Trust and partners across Devon are supporting local communities to plant and nurture trees in the landscape to replace those lost through Ash Dieback. You can find out more about the project on the Devon Wildlife Trust website.
Seed collecting and tree planting are great ways to enjoy being outside and help nature recovery at the same time. Why not combine your walk with some seed gathering, and then grow the trees at home? There are some links below to guidance on how to collect and grow native tree seeds:
Visit Devon's amazing protected landscapes. Devon is home to five Areas of Outstanding Natural Beauty, two National Parks, two World Heritage sites (including the UKs only Natural WHS) and a Biosphere. They are fantastic places to connect with nature, enjoy a moment of tranquillity and find out about Devon's wildlife.
60@60: South Devon AONB challenge you to walk the 60 miles of glorious coastline within the AONB for their 60th anniversary year. Money raised will be used to provide an activity day for 60 young carers.
• Plymouth City Council are launching their new Green Minds project from 12 to 20 October. They have lots of online activities you can get involved in during this time.
Why not share what you are doing this October with our Naturally Healthy photo competition taking place from 1st October 2020 – 31st October 2020 and open to people of all ages residing in Devon. There are great prizes including outdoor clothing and equipment vouchers and a professional photography workshop. To find out all you need to know, please read the Overview and Terms & Conditions. When you are ready to enter please click on the Entry Form.
We believe that being active and getting outdoors to connect with nature is more important that ever.  However, safety is paramount and it is crucial that everyone follows current government guidance when leaving home and accessing green spaces.