May is Devon's Naturally Healthy Month!
The Naturally Healthy campaign is all about the power of nature and physical activity to improve our health and wellbeing, and May is a fantastic time to head outside and enjoy some fresh air and Spring weather.  That is why May is usually our campaign month when LNP partners focus on sharing key messages through publications and social media and offer events and activities to get people out and connecting with nature.
However, you can be Naturally Healthy all year round and with the huge impact the pandemic has had on all our lives, from children and young people to families and adults of all ages, looking after our physical and mental health is more important than ever.  There is clear evidence that being in a natural environment and connecting actively to nature is good for us and the benefits include:
Better sleep
Better circulation
Weight management
Pain relief
Increased metabolism
Boosted immune system
Social contact, reducing isolation
Increased wellbeing/relieves depression
Relaxation/mindfulness, relieves stress and anxiety
Helps manage some conditions and can help prevent others
Encourages awareness and care for our natural environment
James Szymankiewicz, North Devon GP and member of the DLNP says: "Simply being in the natural environment is clinically proven to improve your health and wellbeing."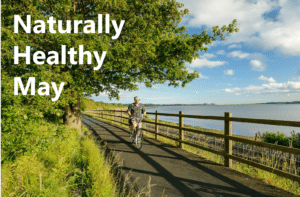 In Devon, our amazing natural outdoor spaces offer a huge variety of ways to be naturally healthy, including walking, cycling, wildlife gardening, wild swimming and bird watching. You can find Naturally Healthy activity ideas on our website, on the Active Devon Activity Finder and on the Explore Devon website.
If you are an organisation interested in getting involved with the Naturally Healthy initiative and next year's Naturally Healthy May campaign please get in touch and join the Naturally Healthy Forum.  For more information contact: Tom.Mack@activedevon.org or Kirstie.Pritchard@devon.gov.uk or visit our Naturally Healthy Forum page.
Take a look at this years' Naturally Healthy May film to be inspired…
We believe that being active and getting outdoors to connect with nature is more important that ever.  However, safety is paramount and it is crucial that everyone follows current government guidance when leaving home and accessing green spaces.
Naturally Healthy opportunities
Activities for Naturally Healthy May 2021
Information for organisations working in nature and wellbeing