Marine protected areas are notoriously tricky to understand. There are a variety of designations (often overlapping) which provide different levels of protection. It can get confusing, so we have tried to make things a little simpler for you: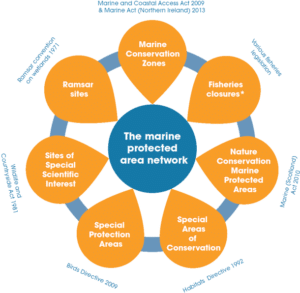 ---
Marine Conservation Zones
Marine Conservation Zones (MCZs) are a type of protected area at sea where human activity is restricted to protect marine wildlife and habitats, designated by the UK Government. Devon has been designated 15 MCZs listed below: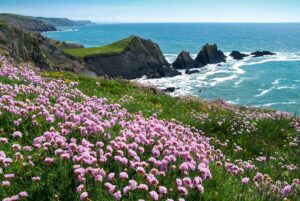 • Lundy
• Torbay
• Tamar Estuary
• Skerries Bank and surrounds
• Bideford to Foreland Point
• Hartland Point to Tintagel
• Erme Estuary
• Avon Estuary
• Dart Estuary
• Axe Estuary
• Otter Estuary
• Morte Platform
• East of Start Point
• North West of Lundy
• South West Approaches to the Bristol Channel
15 may seem like a large number, but there are still ecologically important areas of Devon's seas that remain unprotected. There are also question marks raised about the effectiveness of MCZs as most fail to operate 'No Take Zones'.
Find out more about Marine Conservation Zones
---
Special Protected Areas and Special Areas of Conservation
Unlike MCZs, Special Protection Areas (SPAs) and Special Areas of Conservation are areas protected by European law. They are part of a network of protected areas (the 'Natura 2000' network) designed to protect the wildlife most at risk.
Special Protected Areas
SPAs are areas identified as of international importance for the breeding, feeding, wintering or migration of rare and vulnerable species of birds. SPAs in Devon:
Exe Estuary
Tamar Estuaries Complex
Special Areas of Conservation
SACs are areas which have been given special protection under the European Union's Habitats Directive. Unlike SPAs, they provide increased protection to a variety of wild animals, plants and habitats and are a vital part of global efforts to conserve the world's biodiversity. SACs with coastal/estuarine features in Devon:
Find out more about Special Protected Areas and Special Areas of Conservation
---
Ramsar Sites
Ramsar sites are wetlands of international importance that have been designated for containing representative, rare or unique wetland types or for their importance in conserving biological diversity. The Exe Estuary is Devon's only Ramsar Site, designated in 1992.
Find out more about Ramsar Sites
---
Areas of Outstanding Natural Beauty (AONBs)
AONBs in Devon have been designated in recognition of their national importance, by Natural England, and their primary aim is to conserve and enhance the natural beauty of the designated landscape and can be comparable to National Parks. Devon has 5 Areas of Outstanding Natural Beauty; 4 of which cover significant areas of coastline/estuaries: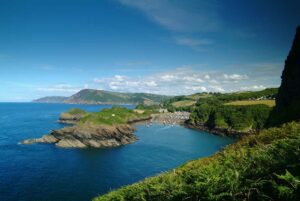 ---
Site of Special Scientific Interest (SSSI)
A SSSI is a formal conservation designation allocated by Natural England. Usually, it describes an area that's of interest to science due to the rare species of wildlife, plants or important geological or physiological features within its boundaries. SSSIs can be designated to give higher levels of protection that other designations such as AONBs.
Devon has a multitude of SSSIs, many of which have been recognised due to their coastal features.
---
National Marine Park
The Plymouth Sound has been designated as the UK's first National Marine Park. Why Plymouth? Well, Plymouth has a rich maritime heritage, a successful and productive fishing industry, world renowned marine science and engineering, a marine city deal and marine enterprise zone, the largest Naval base in Western Europe, and a National Marine Aquarium.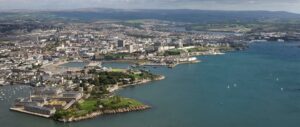 But what exactly does it mean to have a Marine Park? What level of protection does it bring? Find out more about Plymouth's National Marine Park 
---
UNESCO Biosphere Reserve & Marine Pioneer
North Devon is home to a UNESCO Biosphere Reserve. The Biosphere is one of 668 Reserves in 122 countries designated by UNESCO's Man and the Biosphere Programme and was the first of 6 to be designated in the UK.
North Devon is also a 'Marine Pioneer'; one of four pioneers that will be used to test innovative ideas for governance of the environment and to inform the Government's 25 Year Environment Plan.
Find out more about the North Devon Biosphere Reserve and the Marine Pioneer.
---
County Wildlife Sites
There are approximately 2,200 County Wildlife Sites across Devon comprising a range of habitats and species. Unlike Sites of Special Scientific Interest, County Wildlife Sites are not legally protected but form a network of non-statutory wildlife sites.
Find out more about County Wildlife Sites.
---
Voluntary Marine Conservation Areas (VMCAs)
VMCAs are designations for areas of coastline which are of particular wildlife and scientific value. They are voluntarily run by a range of organisations and steering groups, often supported by community or volunteer groups, but have no legal form of protection.
VMCAs in Devon: