East Devon Catchment Partnership
Hosting Partners: Devon Wildlife Trust and Westcountry Rivers Trust
Contact: Ed Parr Ferris, Conservation Manager, Devon Wildlife Trust
Address: Cricklepit Mill, Commercial Road, Exeter EX2 4AB
Telephone: 01392 260868
The East Devon Catchment covers approximately 2300km2 taking in the rivers Exe, Creedy, Culm, Clyst, Otter, Sid, Axe and Lim and coastal streams. East Devon is predominantly agricultural, with lowland cattle and sheep farms constituting 38% of the farming practice. Only 7% of the catchment is developed compared to the national average of 16%. The main urban areas are Exeter, Crediton, Tiverton and Cullompton. The East Devon Catchment has a varied landscape and stretches from Exmoor and the Blackdown Hills in the north to Exmouth and the Jurassic coast and west Dorset.
Priorities
The main issues affecting the East Devon Catchment are:
Agricultural diffuse pollution from intensive agriculture, manures, slurry and soil entering rivers with nutrients affecting groundwater aquifers.
Flooding due to poor soil condition driven by intensive agricultural practices on vulnerable soils.
Water quality and in-river barriers affecting fish populations and passage.
Urban sewage and run-off entering watercourses.
Bathing Water issues around faecal indicators following heavy rainfall.
Current projects
Soils & Natural Flood Management manual and interactive guide: Building on 'Think Soils' guide, to provide soil hydrology guidance to farm advisors and managers.
Ottery St Mary Natural Flood Management Project: Community project within national NFM programme.
River Otter Beaver Trial: Investigating the impacts of wild beavers in a lowland agricultural landscape.
Corry & Coly NFM Project: Using a multi-objective 'Working With Natural Processes' approach to address flooding in Axe catchment and delivering water quality, biodiversity and other ecosystem service benefits.
Connecting the Culm (Water Environment Grant funded): Catchment scale climate change adaptation project that looks to co-create solutions with communities and stakeholders.
Connecting the Culm (Interreg 2 Seas funded): Catchment scale climate change adaptation project that looks to co-create solutions with communities and stakeholders.
Woods for Water: Initiative to strategically plant trees to provide water quality and wider benefits.
Exmoor Non-Native Invasive Species Project: Project to trial new techniques for tackling invasive, non-native species on Exmoor.
Great Trees of the Clyst: Project to maintain, restore and enhance trees and wooded landscapes of the Clyst through community engagement.
Crystal Clear Clyst: Catchment scale project to look at natural solutions to the Clyst's poor water quality.
Culm Garden Village engagement: Stakeholder engagement for the new garden village planned to deliver 5000 homes next to the River Culm.
Lower Otter Restoration Project: Managed realignment of lower Otter Valley addressing loss of coastal habitat in the Exe Estuary.
UpStream Thinking 2 (Otter and Cofton Cross): Catchment investigations and interventions based around farming to address water quality.
UpStream Thinking 2 (Exe): Catchment investigations and interventions based around farming to address water quality.
Upper Wotton Brook Catchment Study: Part of Lympstone Flood Risk Management Project.
Exmoor Mires Partnership: Peatland restoration on Exmoor.
Strategic Exe Weirs (SEW) programme: To improve fish migration throughout catchment for all fish species.
Fisheries Improvement Programme: Catchment-scale river and fisheries improvements to meet WFD targets and restore rivers.
Culm Habitat Improvement Project (CHIP): WFD river and fisheries improvements in the River Culm catchment.
Axe Irish Ford removal: Removal or improvement of migratory obstacles in the Axe catchment.
REHab (River Environment Habitat) project: River and fisheries improvements for Water Framework Directive improvement and water quantity control through Natural Flood Management buffers and extensions.
Life In Trees Enhancement (LITE) project: River restoration and WFD improvements whilst facilitating the national tree planting initiative.
Corry & Coly Natural Flood Management project phase 2: Deploy 'Working With Natural Processes' interventions in order to deliver improved resilience to properties at risk of flooding, tackle WFD phosphate and sediment failures, enhance biodiversity.
Link for further information on the East Devon Catchment Partnership
North Devon Catchment Partnership
North Devon Catchment Partnership
Hosting Partners: Devon Wildlife Trust
Contact: Lisa Schneidau, Devon Wildlife Trust
Content coming soon
South Devon Catchment Partnership
Hosting Partners: Westcountry Rivers Trust and South Devon Area of Outstanding Natural Beauty
Contact: Rosie Lear, Evidence and Engagement Officer, Westcountry Rivers Trust
Address: Rain-Charm House, Kyl Cober Parc, Stoke Climsland, Callington, Cornwall PL17 8PH
Telephone: 01579 372140
The Partnership takes a catchment-based approach and covers the rivers, streams, lakes, estuaries and coast of the Yealm, Erme, Avon, Salcombe-Kingsbridge, Dart and Teign, Slapton Ley and smaller coastal watercourses.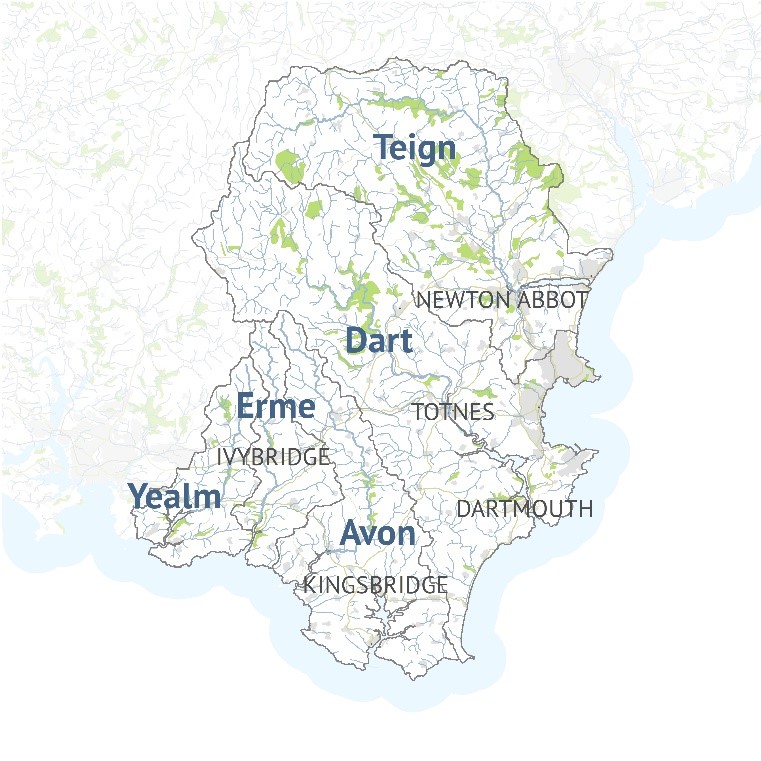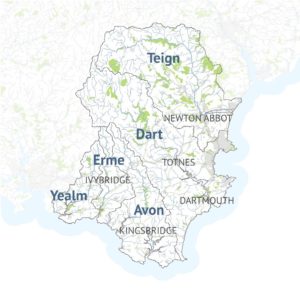 Priorities
Our aim is to work collaboratively to improve the natural quality of our rivers, estuaries, etc. and their catchments, for people and for wildlife, and to bring people closer to nature. The South Devon Catchments Partnership works to bring together and engage local people, organisations and businesses from across South Devon.
The primary driver for the Catchment Based Approach is the need for the UK to meet its water quality obligations under the Water Framework Directive. However, the partnership also embraces the whole range of ecosystem benefits derived from the water catchments including:
Drinking water
Wildlife habitats, corridors and communities
Flood management
Recreation
Culture & heritage
Sustainable food production
Health & well-being
Biosecurity
Current projects
River Gara Diffuse Pollution Interventions
Westcountry Rivers Trust, Natural England, the Environment Agency and Slapton Ley Field Studies Council are working with landowners to improve up to 5km of the River Gara which discharges into the National Nature Reserve, Slapton Ley. Both the Ley and river are failing the Water Framework Directive and this project can help interested landowners in the Gara catchment to undertake improvements to reduce nutrient pressures on water quality.
River Charter for the Dart at Dartington
The Bioregional Learning Centre (BLC) received SDCP's endorsement and a small amount of funding to help progress the UK's first River Charter for the Dart at Dartington. Since then the BLC and Dartingon's estate team have led activities including stakeholder workshops, citizen science training, door-knocking, an interactive exhibition space, and conversations with hundreds of people, to raise awareness of the importance of collective stewardship of the environment.
Dogmarsh Weir
This capital project will work to improve fish passage over Dogmarsh Weir.
Conserving the heritage of Atlantic Salmon and Sea Trout in the River Teign (in development)
The Teign Fisheries Association (TFA), working with local people, angling associations, and with support from statutory and charity bodies, is developing a bid for the National Lottery Heritage Fund. The project proposal is all about enabling committed volunteers, riparian landowners, and the local community to make a positive and lasting difference to the conservation of migratory fish in the River Teign. It aims to deliver practical program of work and engage the widest possible audience through awareness raising activities.
South Devon AONB Estuaries Partnership
We promote Integrated Coastal Zone Management within the South Devon AONB area for the sustainable conservation management of our coast, estuaries and their catchments – involving formal and informal education; habitat, communities and species conservation.
South Devon AONB Estuaries Management Plan
This plan informs, gives guidance and direction to how our estuaries should be actively conserved and enhanced for their health and the vital ecosystem services that they provide. All South Devon AONB estuaries and much of the coast enjoy a Marine Protected Area designation and the plan also helps to conserve the coastal water quality.
South Devon AONB Estuaries Forums
We support four local estuary forums made up of representatives of their local communities, groups, relevant organisations and authorities that meet biannually to discuss and forward the actions of the Estuaries Management Plan.
Seagrass and saltmarsh conservation
We are engaged in a number of projects to encourage the understanding, conservation and enhancement of these very important coastal communities.
Coastal Biosecurity
We have prepared a dedicated Biosecurity plan for each of our local estuaries, that encourage a greater awareness of Invasive Non-Native Species and their implications, and the prudent actions to help their management control, settlement and spread.
Link for further information on the South Devon Catchment Partnership
Tamar Catchment Partnership
Hosting Partner: Westcountry Rivers Trust
Contact: Freya Stacey, Evidence and Engagement Officer, Westcountry Rivers Trust
Address: Rain-Charm House, Kyl Cober Parc, Stoke Climsland, Callington, Cornwall PL17 8PH
Telephone: 01579 372140
The catchment of the River Tamar and its tributaries, when combined with the other rivers that flow into the Tamar Estuary, cover a total land area of around 1,800 sq km. The River Tamar itself, which forms the boundary between the counties of Devon and Cornwall, rises in the hills of North Devon and flows 78 km southwards before entering Plymouth Sound. In addition to the River Tamar, the wider catchment includes the Rivers Tavy, Plym, Yealm, Lynher and Tiddy.
The topography of the wider Tamar catchment is highly varied, with the main upland areas found in the western and eastern fringes of the catchment (Bodmin Moor and Dartmoor). The upper and central sections of the River Tamar catchment are largely comprised of rolling farmland where the low porosity clay soils and granite bedrock give rise to incised 'flashy' rivers prone to rapid onset of spate conditions.
The Tamar Catchment has a diverse mixture of rural and coastal, towns and villages, and the main types of industry are agriculture and tourism. The most populated urban areas are Plymouth, Tavistock, Launceston and Holsworthy.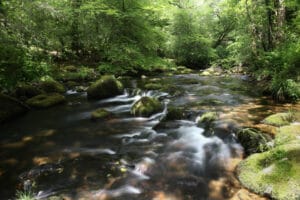 Image by Jiri Rezac
Catchment Partnership Priorities:
Water quality
Water quantity including pluvial flooding, fluvial flooding and coastal flooding
Sustainable water resource management during low flows, drought, rural SuDS/ Working with natural processes/ Natural flood management
Water sensitive urban design including SuDS/Blue infrastructure
Space for wildlife
Carbon sequestration
Local food
Recreation, leisure & culture
Public engagement to improve community resilience and climate adaptation
Key issues in Tamar Catchment:
Nutrients
Sediments
Modification, barriers to fish migration
Metal pollution
Flood risk
Current projects:
Business Board
Tamar Fisheries Forum
Plymouth River Keepers
Upstream Thinking
Westcountry CSI
Link for further information on the Tamar Catchment Partnership