On 31 January 2019, Environment Secretary, Michael Gove, launched the 'Year of Green Action'. This is a year-long drive to get us all involved in projects which help us to connect with, protect and enhance our natural world – be that in our  gardens, schools, parks, farms, workplaces, as volunteers, workers, or consumers. Have a look at DEFRA's Year of Green Action Toolkit for more inspiration.
How can you get involved?
Connect
Improving our understanding of the state of the environment, the benefits a healthy environment can bring, and the effect of our actions on the natural world.
Individuals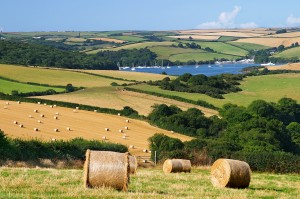 Take part in citizen science projects to measure local wildlife populations
Explore Devon's local greenspaces and coastal environments
Spend more time experiencing and learning about Devon's natural environment
Learn to identify non-native species and report sightings
Organisations / Businesses

Support youth action
Increase greenery in workplaces
Take steps to inform your workforce of the value nature provides, including mental health
Protect
Help us to reduce our impact on the environment through greener decision-making.
Individuals
Organisations / Businesses
Examine your supply chain to reduce environmental impact
Minimise the use of pesticides
Increase the number of electric fleet vehicles
Install water refill points
Enhance
Inspiring us to actively improve our local environment.
Individuals
Organisations / Businesses
Support green infrastructure by installing green walls and roofs
Encourage corporate volunteering days or funding of community environmental projects
Devon's Year of Green Action – Collaborative Themes
Natural Devon partners are collaborating around a monthly theme – see below.  We will be promoting ideas, events, facts and activities all of which are aimed at helping us to help nature – in particular to develop a healthy Nature Recovery Network (NRN) across the county. Information and links below will be developed through the year and promoted largely by social media.  Do get in touch if you have any ideas.  Share what you are doing on social media using #iwill4nature #yearofgreenaction and copying in @Devon_LNP for retweets.
February – Marine
5th Feb Devon Maritime Forum Conference
March – Outdoor Learning
8th March Devon Outdoor Learning Conference
22nd – World Earth Day
6th to the  21st – Discover National Parks Fortnight
May – Naturally Healthy & Invasives
16-18th –  County Show
23rd – National Outdoor Learning Day – can we get all Devon schools involved?
16-22 – Mental Health Week
15 – 21 – Dementia Awareness Week
13 – 17  – National Invasives Week
June – Farming and Forestry
5th –  World Environment Day
9th –  Open Farm Sunday
19-21 – Royal Forestry Society Conference, Dartington
30 Days Wild
July – Get Devon Buzzing
Devon Communities Conference – Nature Recovery – date to be agreed
East Devon Heathweek
September – Landscapes
AONB Outstanding Week
October – Development
November – Priority Habitats